Accomplished Projects
Phu My Fertilizer Project, Ba Ria - Vung Tau Province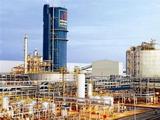 Project: Phu My Fertilized Plant
Owner: Viet Nam Petroleum Corporation (Viet Nam National Oil and Gas Group).
Client: Samsung Enginerring
Location: Phu My Industry Zone, an Thanh District, Ba Ria Province- Vung Tau.
Year completed: 2006-2009
Scope of work:
+ Supplying of materials
+ Fabrication of steel structure, vessel and tank.
+ Installation of boiler steel structure, vessel, tank, eclectric system for shops such as Ammoniac, Ure, Support and other function; plant piping system and mechanical equipment.
Value of contract signed: 90.34 billion VND.
Project Overview:
Other News