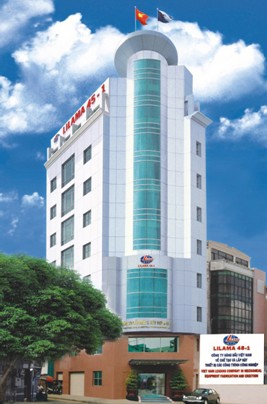 Business Regitration Address:
Add: 138 - 140 Dien Bien Phu St., Da Kao Ward, Dist. 1, Ho Chi Minh City, Viet Nam

Tel: (84)251.286-0291
Fax: (84)251.286-0292
Email: ecc45-1@lilama45-1.com
Website: http://lilama45-1.com
Office:
Add: Group 14, Xom Goc Hamlet, Long An Commnune, Long Thanh Distrist, Dong Nai Province
Tel: (84)(251)286-0291
Fax: (84)(251)286-0292
International name: LILAMA 45.1 JOINT STOCK COMPANY (LILAMA 45.1 JSC)

Tax code: 030-144-3037
Charter capital: 48,000,000,000 VNĐ (Forty-eight billion Viet Nam Dong), up to 31/12/2016
The Management:
Chairman of The Manager Board: Mr. Hoang Si Nhan
General Director: Mr. Nguyen Ba Sung

Vice General Director:

Mr. Nguyen Huu Can
Mr. Nguyen Tien Son
Mr. Dinh Viet Son
Manager at Technical & Economic department :
Mr. Nguyễn Tiến Sơn
The affiliated company: LILAMA CORPORATION
Human Resources: up to 06/2017
| | |
| --- | --- |
| Workforce | Quantity |
| Engineer and technician specialist | 182 |
| Rigger | 124 |
| Mechanical Fabricator | 104 |
| Pipe Fitter | 41 |
| Qualified welder | 73 |
| Electrician | 62 |
| Other | 114 |
| | |
| Total | 700 |
Business activities:
+ Construction and installation of civil works industry (cement, hydropower, thermal power, oil and
gas, and other industrial, petroleum pipeline, liquids, oil refineries, gas processing gas, liquefied), power transmission lines, transformer stations;
+ Installation of machinery and equipment;
+ Production, business supplies, spare parts, structural type of metal for building;
+ Processing, installation and repair of lifting equipment, pressure equipment (tank, piping pressure),
mechanical equipment, electrical equipment, non-standard steel structure, supply, installation installation and maintenance of elevators;
+ Export and import of materials and equipment, technological lines, building materials, electrical
appliances, chemicals (other than chemical toxicity), spare parts, tools, mechanical, gas, oil, grease, gas, industrial gases;
+ Investment in construction, infrastructure and business industrial parks, urban areas;
+ Business real estate (excluding brokerage services, valuation, real estate trading floor);
+ Consulting construction: civil, industrial, transport, irrigation, investment consulting and installation
of technological line (no design work activities);
+ Check the welds by non-destructive methods (ultrasonic, permeability, magnetic Xray);
+ Test and adjust equipment, heating systems, automatic control systems technology lines.
Corrosion protection for metal surfaces;
+ Manufacturing boilers, tanks and pressure;
+ Investment in construction, manufacturing, power trading;
+ Design of the electric industry.

Applicable Standards:
ISO 9001:2015 Quality Management System by BSI Viet Nam Co.Ltd certified.
OHSAS 18001:2007 for Safety management system
ASME (The American Society of Mechanical Engineers):
+ Stamp [ S ]: design, fabrication and installation of boilers in power plants
+ Stamp [ U ][U2]: design, fabrication and installation of vessel pressures
+ Stamp [ R ]: repair of pressure equipments
+ Stam [NB] : apply the [NB] mark and register boilers, pressure vessels or other pressure retaining items with the Nation Board.
Certificate of eligibility for construction activities No .: BXD-00029857 Issued by Department of Construction Operations Management on September 5, 2019. Valid until September 5, 2029
LILAMA 45.1 - Dedicated to your business & to your future